Trialtech Sport HP Bicycle Rim Brake Lever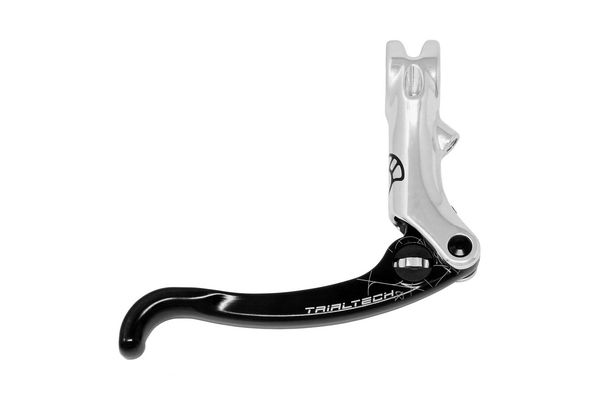 Trialtech Sport HP Bicycle Rim Brake Lever
- Forged main body with precision CNC machined features.
- Ergonomic blade shape feels supportive and comfortable with a wide range of reach adjustment.
- 13mm piston and carefully selected leverage ratios allow a shorter and stiffer blade to be used without a loss in overall power.
- IGUS pivot bearings from Germany for improved feel and increased durability.
- Replaceable pivot pin features locking grub-screw and unique hidden 'backup' securing system.
- Injection molded piston using tough, low moisture absorbing engineering plastic specifically designed for use with Trialtech brake fluid.
- Fitted with two UK made seals.
- Optimal bleed port position, air always rises to the bleed port exit, helping improve fluid change ease and quality.
- Low profile 'leg-saver' split clamp using a custom forged 7075 bolt.
- Optimal main hose exit angle helps prevent tangled and damaged hoses.
- Custom extra-tough M6 cr-moly bleed blanking screw.
- Supplied with a unique custom made bleed adaptor and hose.
- Left or right side specific but can be flipped in urgent situations (the pivot pin should be turned around for added security).
- All spares available separately, including a choice of coloured fitting kits.
- Compatible with all slave cylinders.
- Stylish polished finish and 'Sport' logos.
- Weight: 75.5g