TMS Street Trial Urbex Team MT5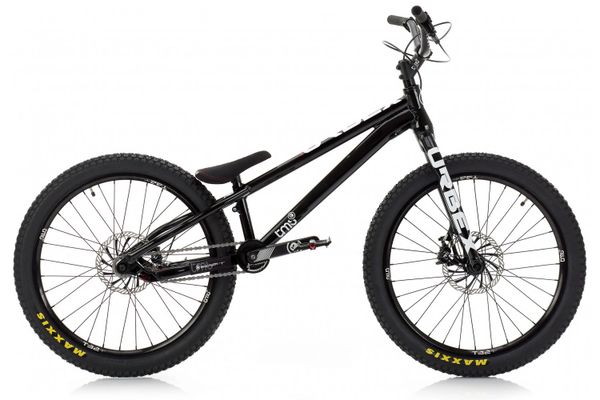 TMS Street Trial Urbex Team MT5
Flat Rate $100 Shipping to Lower 48
TMS is pleased to present its creation STREET TRIAL 2021:  URBEX TEAM MAXXIS / MT5
The French brand of  Thibaut Marriaux  (ex World Champion of MTB trial) benefits from a great experience: 12 years of development with its Team trial and street trial.
NEWS & INNOVATIONS:
URBEX  is the successor of the famous Chamgn developed by the famous  Léo Nobile  that we no longer present. 
Thanks to the best of TMS know-how, the alliance of technicality and design is called  URBEX.
From the first glance, URBEX seduces with its style. 
-  Hydroformed lower and upper tube  providing an increase in rigidity of around 15 to 20%
- Head Set Tapered 1 "1/5  Provides increased rigidity and solidity favoring 2-step techniques.
-  Geometry  Compared to the Champgn camo we have stayed on a fairly similar geometry with an even shorter 985cm bike facilitating nervousness and other "street" tricks while keeping a good trial behavior. 
-  CNC machined wheel mounting brackets  for better maintenance of the wheel in its housing and a significant gain in rigidity.
-  Clevis tensioner integrated into the frame  which allows a fixed position of the wheel and a constant tension of the chain: this results in constant braking.
-  Fully machined caliper mounting bracket  placed between the 2 shrouds  for total protection and perfect alignment of the caliper with respect to the disc. 
- Saddle clamp integrated into the seat tube and located below the seatstays to purify and allow an even lower saddle.
-  URBEX PRO screen printing on pearly white paint sublimated by a mat varnish.
New Geometry:
- Total wheelbase :  985mm  NEW
- Rear chainstays: 362mm NEW
- Case height:  + 30mm  NEW
- Steering angle: 74 °
- Weight: 1.9kg (without tensioners)
Equipment:
Fork : 
- Aluminum Alloy TAPERED  NEW
- Length: 400mm; pivot: 220mm; Offset: 30mm,
- Postmount 180mm disc hanger
- Thru axle Ø15mm
- CNC threaded stem cap
Cockpit :
- Headset: TMS 1-1 / 5 "TAPERED  NEW
- Stem: TMS 90x35 °  
- Handlebar: TMS H750  new NEW serigraphy 
- Handles: Extra long fine black rubber
Braking:
- MAGURA MT5 Double piston calipers 
- Discs: TMS 6 black spokes 180mm *
Transmission:
- Bottom bracket: TMS 128 ISIS drive. 
- Cranks: TMS 170mm, Black new serigraphy. NEW
- Freewheel protection: TMS screen printing to match the crankset.  NEW
- Front Fixed Gear: TMS 18 teeth 3 "3/32.
- Pedals: Welgo Black.  
- Chain: KMC Z610
- Saddle: TMS BIKEVISION Black  NEW
Wheels:
- Front hubs: TMS Disc street Black 32 Ø15mm bearings. 
- Rear hubs: TMS 135mm rear freewheel disc sealed annular bearing s.
- Rear sprocket: 13 tooth splined 
- Front rim: TMS 24 "street, double wall, Black
- Rear rim: TMS 24 "street, double wall, Black
Pneumatic:
- Kenda KRAD 24 "x 2.35
Weight :
- NC kg
6 months warranty 
Tutorial and recommendations on our Thibaut TMS YouTube channel