TMS EVO6 26" Brushed Aluminum HS33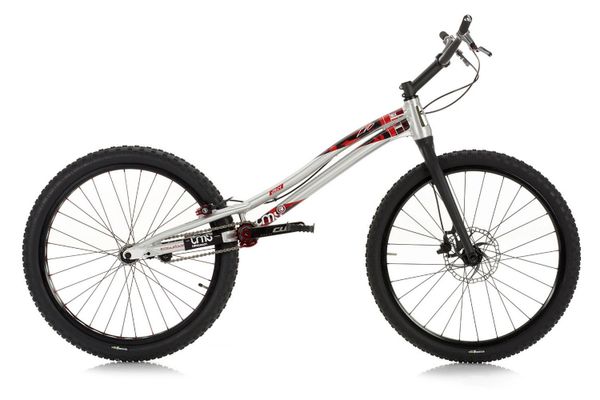 TMS EVO6 26" Brushed Aluminum HS33
TMS is pleased to present its latest creation: The EVO6!
After 1 year of testing our pre-series in the World Cup by Yann Fringeli (Top 15 Elite 26"), the TMS brand is able to present this magnificent final series to you.
The design is perfectly in line with the EVO range, we have kept the main lines: the curves of the tubes give the frame a sleek look and fluid lines.
New: the clevis tensioner brings an always similar wheel position and a constant chain tension while increasing rigidity. 
The matte black / modern red camo screen print enhances this bike.
FRAMEWORK :
- Ultra light frame in 6065 T6 aluminum 
- 1"1/5 semi-integrated perforated socket 2 lateral grooves + interior 
- Chain tensioner 2 rollers 12 dts 
- 68mm Euro case
- Fully machined brake hoop. NEW
- Reinforcement gusset under the top tube.
- WB: 1077mm; SC: 377mm; BB: +67.1mm, Angle; 72.0° 
- Finish: Brushed aluminum varnished NEW
- Weight: 1.55 kg with the tensioner 
EQUIPMENT :
- Fork: CLEAN DISC TRIAL TAPERED 1"1/5
- Stem: CLEAN 145 / 25° / 31.8mm
- Handlebar: CLEAN AL 103.12.9
- Headset: 1"1/5 semi-integrated Tapered COMAS
- Handles: Ultra thin foam 
- Front brake: MAGURA HS 33 Rim Brake (photos shows disc)
- Rear brake: MAGURA HS 33 Rim Brake
- Disc: TMS Ø160
- Cranks: CLEAN CNC Black 160mm 
- Pedals: CLEAN single cage black 
- Freewheel: CLEAN 118 engagement points 18 teeth red
- Shoe: CNC Red
- Sprocket: 12 teeth  
- Front rim: CLEAN 28 holes rectangular holes
- Rear rim: CLEAN 47mm 32 holes rectangular holes
- Front hub: CLEAN X1 DISC 28 holes 
- Rear hub: CLEAN X1 DISC 32 threaded
- Front tire: CLEAN KOALA 20x2.0
- Rear tire: CLEAN KOALA 19x2.5
- Weight: 8.5kg in double magura Hs 33
Our manufacturers do not apply any guarantee on the frames because the practice of trial requires a lot of equipment, however TMS guarantees 3 months against any manufacturing defects.