Sherco Shock Bearing Bush Kit 06-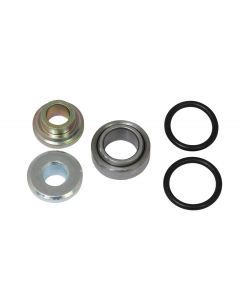 Sherco Shock Bearing Bush Kit 06-
Sherco rose joint bearing to fit in rear shock absorber, this is the complete kit including 2 spacer bushings, 2 seals and 1 bearing.
To fit the upper and lower end eye on the 2006 to 2011 Sherco bikes, also fits just the upper end eye on the 2012 to 2015 Sherco trials bikes with the Olle R16V rear shock.
Total width of spacers when fitted to the spherical bearing 24mm.
Bearing dimensions:
Outer Diameter 26mm
Inner Diameter 15mm
Inner width 12mm
Outer width 9mm
Sherco Part # 1685