Jitsie 26" Varial 1085 HS/HS Race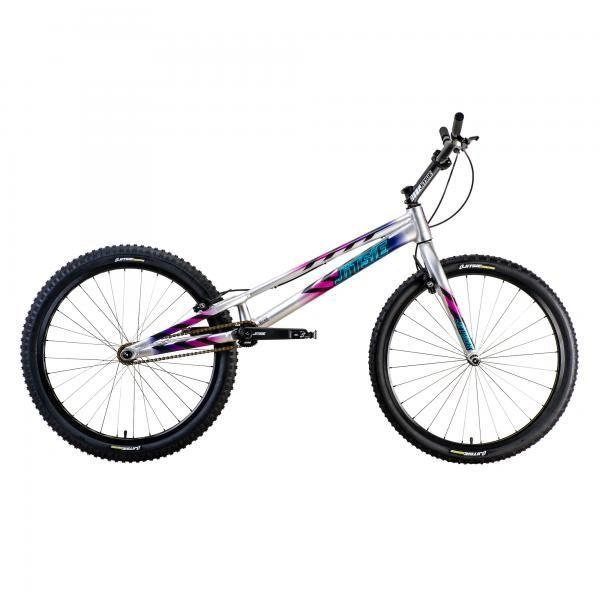 Jitsie 26" Varial 1085 HS/HS Race
The Jitsie Varial Race bikes have received major updates for 2023 and take innovation to the next level in trials. Highlights include the completely new aluminium frames with our proprietary hydroformed tubing, innovative rear thru axle setup with integrated snail cams and all new Race cranks. The unity of quality manufacturing and functional minimalist design result in a performant and durable competition bike that makes it the choice for any serious trials rider.
Frame kit:
* frame: Jitsie Varial Race 1085mm hs tapered with thru axle 12mm
* fork: Jitsie Varial Race 400mm hs tapered 1.1/8" - 1.4" with 10mm thru axle

Features frame:
* hydroformed triple butted tubes from premium 6061-T6 aluminium to save weight and increase stiffness
* competition orientated design with a focus on performance and durability
* 110mm high CNC machined head tube designed for a semi-integrated tapered headset
* CNC machined threaded 68mm wide bottom bracket yoke
* innovative tapered seat tube increases stiffness around the bottom bracket area
* CNC machined integrated rear brake booster for rim brakes distanced 100mm apart
* CNC machined custom dropouts distanced 116mm apart come supplied with Jitsie exclusive 12mm rear spindle system
* sandblasted silver finish with Jitsie Race graphics

Geometry:
* wheelbase: 1085mm
* chainstay length: 380mm
* bottom bracket height: 75mm
* head tube: 110mm
* head tube angle: 71.5°
(geometry based on Jitsie Varial Race tapered fork 400mm and +-35mm offset)

Wheels:
* hub front / rear: Jitsie 100mm 28h hs Race black / Jitsie 116mm 32h hs Race black
* rim front / rear: Jitsie 26" 32mm 28h black / Jitsie 26" 48mm 32h black
* spokes / nipples: Jitsie inox 1.8mm silver / aluminium black
* tyre front / rear: Jitsie Reverz 26"x2.0 / Jitsie Reverz 26"x2.6
* tubes: Jitsie 26" light 0.9mm

Components:
* headset: Jitsie semi-integrated tapered 1.1/8" - 1.4"
* headset spacer: Jitsie 5mm carbon
* stem: Jitsie sloped 150mm 35° stem with Jitsie stem cap Race black
* handlebar: Jitsie 31.8mm 730x110mm carbon with Jitsie handlebar pad
* grips: foam
* front brake: Jitsie rim brake master cylinder Race / Jitsie brake hose / Magura rim brake calipers with Jitsie brake pads Race
* rear brake: Jitsie rim brake master cylinder Race / Jitsie brake hose / Magura rim brake calipers with Jitsie brake pads Race

Drivetrain:
* bottom bracket: Jitsie ISIS 128mm
* cranks: Jitsie Race 170mm black
* crank bolts: Jitsie aluminium black
* pedals: Jitsie simple cage black
* freewheel: Jitsie 108.9 18t
* protector: Jitsie bash ring black
* sprocket: Jitsie aluminium 15t
* chain: KMC K1SL gold
* chain tensioner: Jitsie 12mm thru axle with integrated snail cams

Weight:
* 8.6kg including pedals and handlebar pad

Extra:
* Jitsie and Off>Road>Action reserve the right to partially modify the components of the bike according to available stocks and in harmony with the original specifications. The pictures shown are non-contractual.