Jitsie 26" Varial 1085 HS/Disc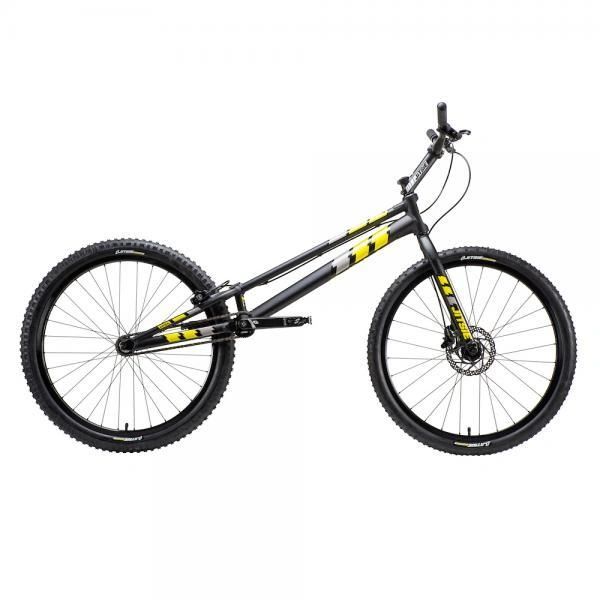 Jitsie 26" Varial 1085 HS/Disc
Flat rate $80 only available for lower 48

Taking innovation to the next level in trials, the Varial bike reflects Jitsie's 100% focus on trials. The unity of quality manufacturing and functional minimalist design result in a performant and durable bicycle that makes it the choice for any trials rider.

Frame kit:
* frame: Jitsie Varial 1085mm hs
* fork: Jitsie Varial 400mm disc 1.1/8"

Features frame:
* manufactured from aerospace 6061-T6 aluminium
* minimalistic design with a focus on performance and durability
* 120mm high CNC machined head tube designed for semi-integrated headset
* CNC machined 68mm wide bottom bracket yoke for ISIS bottom bracket
* CNC machined integrated rear brake booster for rim brakes distanced 100mm apart
* CNC machined horizontal dropouts distanced 116mm apart come supplied with steel snail cam bolts
* sandblasted and black anodized finish with Jitsie graphics
* frame comes supplied with lightweight silicon seat plug
* frame allows for the Jitsie aftermarket seat to be installed

Geometry:
* wheelbase: 1085mm
* chainstay length: 380mm
* bottom bracket height: 70mm
* head tube: 120mm
* head tube angle: 71.5°
(geometry based on Jitsie Varial fork 400mm and +35mm offset)

Wheels:
* hub front / rear: Jitsie 100mm 28h disc black / Jitsie 116mm 32h hs black
* rim front / rear: Jitsie 26" 32mm 28h black / Jitsie 26" 48mm 32h black
* spokes / nipples: inox 1.8mm black / aluminium black
* tyre front / rear: Jitsie Reverz 26"x2.0 / Jitsie Reverz 26"x2.5
* tubes: Jitsie 26" light 0.9mm

Components:
* headset: Jitsie semi-integrated 1 1/8"
* headset spacer: Jitsie 5mm aluminium black
* stem: Jitsie 150mm 35° with flat cap black
* handlebar: Jitsie 31.8mm 730x90mm aluminium black
* grips: foam
* front brake: Shimano MT400 / 180mm / +20mm adapter
* rear brake: Magura HS22

Drivetrain:
* bottom bracket: Jitsie ISIS 128mm steel
* cranks: Jitsie 170mm black
* pedals: Jitsie caged black
* freewheel: Jitsie 108.9 18t
* protector: Jitsie bash ring black
* sprocket: Jitsie steel 15t
* chain: KMC Z1eHX Narrow
* chain tensioner: Jitsie aluminium/steel snail cams

Extra:
* Jitsie and Off>Road>Action reserve the right to partially modify the components of the bike according to available stocks and in harmony with the original specifications. The pictures shown are non-contractual.

Color: Black/Grey/Fluo YellowSize: 26"