TMS Street Trial Urbex Team Full Hope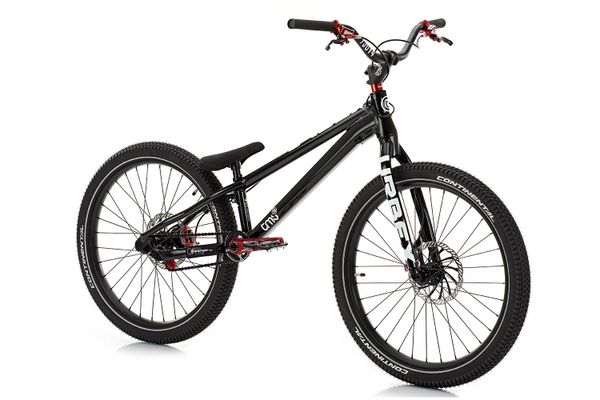 TMS Street Trial Urbex Team Full Hope
Flat Rate $100 shipping for lower 48

Top of the line Street Trials Bike
TMS is pleased to present its creation STREET TRIAL 2021:  URBEX TEAM
The French brand of  Thibaut Marriaux  (ex World Champion of MTB trial) benefits from a great experience: 12 years of development with its Team trial and street trial.
The URBEX TEAM differs from the URBEX PRO by its shiny black color, its 12mm thru axle, and all the components of the prestigious British brand HOPE.
NEWS & INNOVATIONS:
URBEX  is the successor of the famous Champgn developed by the famous  Léo Nobile  that we no longer present. 
Thanks to the best of TMS know-how, the alliance of technicality and design is called  URBEX.
From the first glance, URBEX seduces with its style. 
-  Hydroformed lower and upper tube  providing an increase in rigidity of around 15 to 20%
- Head Set Tapered 1 "1/5  Provides increased stiffness and solidity favoring 2-shot techniques.
-  Geometry:  Compared to the Champgn camo we have stayed on a fairly similar geometry with an even shorter bike (985cm) increasing nervousness and facilitating "street" tricks while maintaining good trial behavior. 
-  CNC machined wheel mounting brackets  for better maintenance of the wheel in its housing and a significant gain in rigidity.
-  Clevis tensioner integrated into the frame  which allows a fixed position of the wheel and a constant tension of the chain, resulting in constant braking.
-  Fully machined caliper mounting bracket  placed between the 2 shrouds  for total protection and perfect alignment of the caliper with respect to the disc. 
- Saddle clamp integrated into the seat tube and located below the seatstays to purify and allow an even lower saddle.
- Ø12mm thru axle  allowing even more rigidity
-  URBEX TEAM serigraph on a black paint sublimated by a gloss varnish
New Geometry:
- Total wheelbase :  985mm  NEW
- Rear chainstays: 362mm NEW
- Case height:  + 30mm  NEW
- Steering angle: 74 °
- Weight: 1.9kg (without tensioners)
Fork : 
- TAPERED Aluminum Alloy. NEW
- Length: 400mm; pivot: 220mm; Offset: 30mm.
- Postmount 180mm disc hanger.
- Thru axle Ø15mm.
- CNC threaded stem cap.
Cockpit :
- Headset: TMS 1-1 / 5 "TAPERED.  NEW
- Stem: TMS 80x40 °  
- Handlebar: TMS H750  new screen printing. NEW
- Handles: Extra long Fine black rubber.
Braking:
- AVANT HOPE TECH3 E4 allowing a good dosage of the front brake during nose manual notably.
- REAR HOPE TECH3 V4 the most powerful brake of its range.
- Discs: TMS 6 black spokes 180mm
Transmission:
- Bottom bracket: TMS external bearing BSA30 black. NEW
- Crankset: HOPE EVO 170 Red annodization. NEW
- Integrated plate protection TMS V2.  NEW
- Pedals: ICE FAST Black
- Saddle: TMS BIKEVISION Black with red stitching 
Wheels:
- Front hubs: TMS disc 15MM
- Rear hubs: TMS 135mm x12mm rear freewheel disc sealed annular bearings NEW
- Rear sprocket: 14 tooth splined.
- Front rim: TMS 24 "T32 street, double wall, Black without marking.
- Rear rim: TMS 24 "T32 street, double wall, Black without marking.
Pneumatic:
- CONTINENTAL Air King Mackaskill 24x2.4.
Weight :
- 10.2 Kg without pedals
6 months warranty. 
Tutorial and recommendations on our YouTube channel  TM S Bike Vision