Rekluse Core manual Torq Drive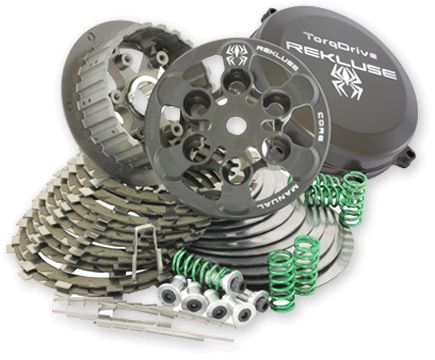 Rekluse Core manual Torq Drive
Call for availability
A High-Performance Manual Clutch
Which The Pros Are Already Calling
"The New Holeshot Device"
Feel More Torque
Retain that precious horsepower you pumped into your motor and FEEL it going to the rear wheel.
Launch Off the Line Faster
With more powerful torque transfer your starts will be better than ever..
Race With More Confidence
With better traction and harder lock up, you can blitz whoops faster and launch triples easier.
Precise Lever Feel
Historically a heavy duty, high performance clutch made for a stiff lever. Not anymore! Now you get all the torque transfer AND a very smooth lever.
What Is The Performance Advantage?
The TorqDrive™ clutch pack is comprised of 12 steel drive plates and 12 friction disks instead of the usual 7 and 8 plate pack. This is achieved using Rekluse thin friction and thin drive plate technology, resulting in benefits far beyond simply billet. When this technology is coupled with our highly engineered pressure plate and center hub the result is something you can actually feel benefiting you. We are certain you haven't felt anything like this from a clutch before.