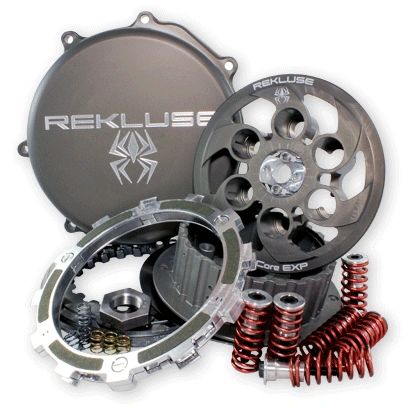 Rekluse Core EXP 3.0
Call for availability
Prevents Stalling
Innovative EXP disk design incorporates updated wedge weights to prevent
your machine from clutch related stalls.
Higher Durability
Improved design reduces friction and heat build-up so your components last longer.
Power to the Ground
A properly set up Core EXP delivers constant power without slip, providing high performance and traction control exclusive to the Auto-Clutch.
Better Lever Feel
Capable of manual override at all times with a lever that feels just like stock, but won't be subject to clutch fade like traditional clutches.
Core EXP just got better – Now with EXP 3.0 Technology™ – Breakthrough in Response, Performance & Tunability! Rekluse Core EXP is our award winning premier product. It is the #1 choice for performance minded riders that insist on perfect clutch lever feel that also demand the highest performance and durability available.
Faster Cornering

Improved Traction

Virtually Eliminates Stalling

Better Starts

Faster Lap Times