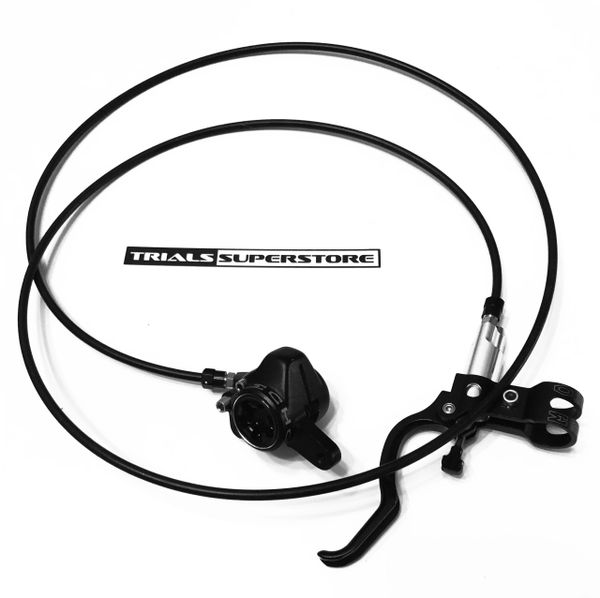 Echo TR Rear Disc Brake
Echo TR Disc Brake Hose length 60in
The TR disc brake is Echo's answer to the Hope Mono Trial. It provides a lighter, cheaper alternative for trials specific disc brakes. Unlike the Hope, it uses a closed system like the Echo and Magura rim brakes that allows for more precise bite point adjustment and easier bleeding. The adjustment is taken care of by Echo's new TPA system, which consists of a knob at the end of a screw connected to the lever. It is protected from crashes by the lever blade and has a large range of adjustment when compared with competitors' systems. The lever has a tough, anodized finish that resist scratches and uses a flip-flop design so it can be used on the right or the left. The lever blade is fairly long and has a comfortable shape ideal for one finger braking.

The caliper is made from 6061 T6 aluminum and is International Standard and compatible with most frames and forks. The brake is fitted with kevlar-reinforced plastic hosing that's durable while still being lightweight. The brake is supplied with Echo's own brake pads, but Hope Mono Trial pads can also be used with it. Echo has designed their own rotor for use with the brake that has thick arms to increase stiffness and cutouts to save weight. It features a standard 6 bolt rotor pattern compatible with most disc hubs. Supplied fully bled and ready to be installed. Includes brake, brake pads, rotor, rotor bolts, and brake shims of various thicknesses. The brake is designed to be used with mineral oil only, do not use DOT fluid!

Includes brake, rotor, and all mounting hardware.

Please Note: bleeding the brake with water or any other fluid other than mineral oil will void the warranty.