Aluminum Spark Arrestor #30 Screen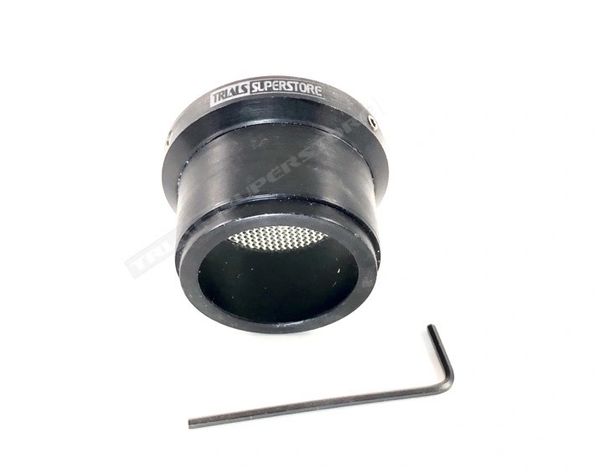 Aluminum Spark Arrestor #30 Screen
Machined Aluminum spark Arrestor with stainless set screws with a very compact design. Has legal screen size and comes with Allen key. Fits most trials motorcycles. Slips over the silencer and tightened with 3 stainless set screws. 
Currently we have 2 different sizes- to check fit, measure your silencer where the spark Arrestor would slip on and get the outside diameter O.D. Most common is 1".25 it needs enough to slip on past the set screws. The other size is 1".125 O.D. And that spark Arrestor comes with a sleeve already installed to make up the difference in size. If your silencer has any knicks or burrs you can file it down so the spark Arrestor will slip on. Easy to clean just take off...spray with brake cleaner or use solvent.
We developed an internal adaptor for the most trials bikes that fits internally and uses 3 set screws to secure. Then our standard spark arrestor attaches to the adapter with 3 set screws.  (by clicking on this option it includes the adaptor and spark arrestor) 
-On the internal adapters

PLEASE MESSAGE US

with the internal diameter measurement so we can ensure proper fit.
1.250"

for example- GasGas, pre 2010 Sherco 
1.125"
- Montesa Cota 315r, 2016 and up Montesa 4RT 
Internal Adapter

is for trials bikes that do not have a silencer end that extends out for a spark arrestor to attach to
When attaching to the bike be sure to tighten the 3 set screws evenly 
Check your application before purchasing.