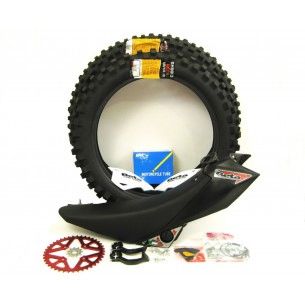 EVO Sport Kit
Evo Sport Kits are now available for every full size Evo model including: Standard, SS, and Factory Edition models. Simply choose the Evo that you would like to order, and tell your dealer that you would like it to come as a Sport model. 
Once your order is processed your new Evo model will have the Sport Kit installed by highly skilled Beta factory technicians before being shipped out to your dealer.
The Sport Kit will be an upgraded package that will be an additional $500.00 to the cost of your desired model. *The sport kit IS NOT available as a separate part! Not Available without the purchase of the Beta Evo Motorcycle.
Sport Kit Features:
A long range tank/seat combo & hardware
Knobby Shinko front/rear tires
A rear rim lock
400 x 18 tube
12t front & 41t rear sprocket
Beta Racing hand guards & mounts