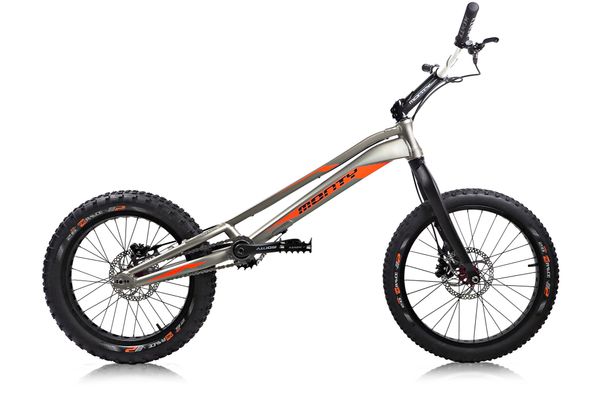 Monty Kaizen 220
Call for availability and special pricing
With the Trial KAIZEN 220 bike we have put plenty of arguments on the table to categorize it as mid / high range. It is located a step above the KAIZEN 219, incorporating remarkable improvements in the level of equipment. In this way, the KAIZEN 220 mounts, 160mm hydraulic brake discs, lightweight tires, ProRACE tires, ISIS pedalier, foam grips and specific Trial pedals.
We stand before an ideal machine for training, with a good level of exigency with which to start in the competitions' world.
Elitist Look
A sober design with elite aesthetics. Built of 6061 steel, the tubular chassis enhances the performance of the KAIZEN 220. It offers a light weight of only 1.6 kg, great robustness and a certain "controlled" flexibility that gives an extra handle ability.
Range-topping
This is the most equipped model in the range. If the KAIZEN 218 and 219 provide an excellent response and solidity, the KAIZEN 220, in addition to having such benefits, incorporates a level of equipment superior to the demands of the riders with greater progression.
Quality Components
Apart from all the equipment mentioned above, the KAIZEN 220 features ProRACE bushings made of high quality and resistant steel. A generation of components to deliver the best performance possible.
| | |
| --- | --- |
| Model | KAIZEN 220 |
| Category | Trial |
| Chain | 1/2X3/32″ 72L |
| Frame | AL 6061, PS/HY, 116mm |
| Fork | AL 6061, PS/HY, 100mm |
| Headset | AL, Semi-integrated 1-1/8″ |
| Brakes | Formula Cura hydraulic disc 160mm |
| Brake handle | Formula Cura hydraulic disc 160mm |
| Wheel rims | AL, F: 20″-28H, R: 19″-32H |
| Tyres | ProRACE F: 20″x2.0 R: 19″x2.60 |
| Pedals | AL, 9/16″ |
| Bicycle drive | CrMo, L128mm, W68mm, 1.37x24T, ISIS Type |
| Freewheel | TrialCORE 18Z 108.9 |
| Cranks | AL 6061, L158mm, OFF 35mm |
| Handlebars | AL, L680mm, 31.8mm, 10º |
| Stem | AL, L160x24º. Bar bore 31.8mm |
| Handles | High density foam L130mm |
| Speeds | 1 |
| Weight | 8.20 Kg |
| Dimensions | 153x70x95cm (LxAxH) |