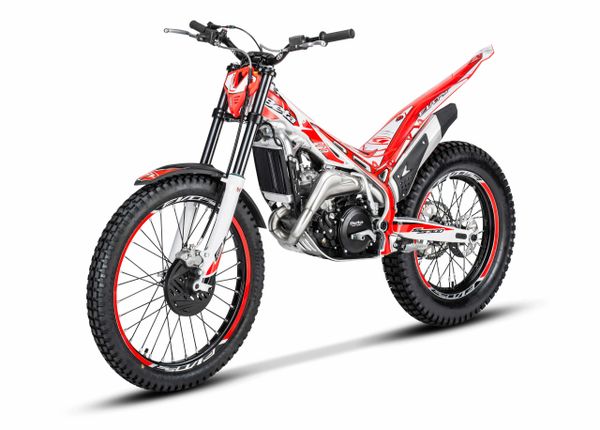 2019 Beta Evo 300 2t SS
Call for Availability 
Engine specs:
Type: Single cylinder, 2-stroke, liquid-cooled w/ reed valve
Bore: 79mm
Stroke: 60.5mm
Displacement: 299cc
Compression Ratio: 10:1
Ignition: 12 volt, 110 watt w/ dual-map switch (aggressive or soft settings)
Spark Plug: NGK GR7CI8
Lubrication: Pre-mix (synthetic oil)
Carburetor: Keihin PWK 28mm
Clutch: Wet multi-disc w/ cush-drive basket
Transmission: 6-speed
Chassis Specs: 
Frame: Aluminum beam, single wave Hydro-Formed w/built in fuel tank    
Wheelbase: 51.4"
Seat Height: 26"
Ground Clearance: 12.2"
Footrest Height: 13.6"
Dry Weight: 146 lbs. dry
Fuel Tank Capacity: .75 US gallons (both tanks)
Front Suspension: 38mm Paioli including hard-coated tubes
Rear Suspension: Adjustable single shock, aluminum bodied with nitrogen including linkage
Front Wheel Travel: 6.5"
Rear Wheel Travel: 7.1"
Final Gearing: 10t front, 42t rear
Front Brake: 185mm rotor w/ 4-piston caliper
Rear Brake: 160mm rotor w/ twin-piston caliper
Front/Rear Rim: 21" (Front), 18" (Rear)                      
Front/Rear Tire:  Dunlop  Trial
Warranty: 6 month Limited Warranty
MSRP: $7,899.00
Items included with all SS models: -"Hi-Torque" exhaust system
-Heavier flywheel to help smooth out the power.
-Smaller countershaft sprocket to tie the engine torque to the ground
-Slower turn throttle assemble
-Different combustion chamber to reduce the engine's power pulses
-Heavier primary drive gear for additional smoothness.
*All designed to provide the rider with a more manageable,
 smoother power with reduced "power pulses".